Well the announcement for RAGECon 2021 has been made, and I'm hopeful things are back close enough to normal by summer that public events like this can take place again.

http://www.ragecon.com/
https://www.facebook.com/RAGECon

RAGECon is the Reno Area Gaming Expo Convention. It happens annually here, and is an event I look forward to all summer, if not all year. It's a weekend of gaming and socializing with fellow gamers, in an environment that fosters meeting new people, trying new games, and being among folks that enjoy the same games and hobbies I do. Like many, many conventions last year RAGECon was cancelled. There were multiple attempts to bump it back and reschedule it all through summer, but by August it was finally evident that it wasn't going to be safe or all right to put on, so the staff had to reluctantly call it officially cancelled.

I missed the first few years of RAGECon because I had not heard about it - even as a local. In 2018 I attended year 5 of the event, played a few games, ran/hosted a couple of games, and was hooked on the event. I decided after that first convention weekend that I wanted to make it an annual event for myself. In 2019 it became a family event. In 2020 we all had to skip it when Covid-19 conditions forced the event to be cancelled. I'm hoping strongly that by June of this year we will have things safe and under control enough to allow the event to pick back up.

2018 was year 5 of RAGECon, and that year was really rough for me for personal reasons. I decided attend the convention pretty much in the 11th hour, as something therapeutic for myself in a way. To make myself engage in something when I hadn't been for some time. My sign up was a bit hectic due to the lateness of it, but I had been corresponding with one of the event coordinators named Brad, and he did everything he could to make things work out for me. It was such a late sign up that the games I signed up to host/run for the event did get listed, but not in time for anyone to sign up and reserve spots. I ran two games that year; The Skeletons, and Cyberpunk 2020 - the long running predecessor to the new Cyberpunk Red.

The Skeletons (From Bully Pulpit Games) I hosted as an event for people that might not be familiar with tabletop roleplaying games like Dungeons & Dragons, or who might know about them but find the complicated rules a bit too daunting to want to indulge their curiosity. It's a game with no dice, math, complicated character generation, or the like. The characters, in fact, start as a blank slate and discover things about themselves through collaborative story telling as the game unfolds. I listed it as an introduction to role playing games. On the day of the game I had 5 players, all of whom I knew, but the event was fun nonetheless.

Cyberpunk 2020 (from R. Talsorian Games) started off empty as well. On game day I ended up with 5 players; two friends of mine, a father and his teenage son, and a young man named Jed that I would later count among my friends. The game was unfamiliar to all but one of the players, so there was a slow start, but everyone had a great time, made fun memories, and shared many a one-liner. I tried something in that game that I don't usually do. I assigned secret tasks to the players to impact their role playing. One player needed to use 'jazz hands' when saying something at least three times during the game. I had another trying to use as many lines from the movie Aliens as he could sneak in. I don't recall the other silly tasks, but each player had something like that to work into the game, and it went over quite well, and laughs were had at the end of the game when they all shared what their secret objectives had been.

One of the players that sat in on that first Cyberpunk 2020 game was Jed. He was walking from table to table taking pictures of the entire event when he came across our table during character generation. He mentioned that he had heard of the game but never met anyone that played it, so he never had the chance to play it himself. I invited him to sit down and make a character, and it was one of the best things I did that first year. Jed is an absolute character though and through, and he brings an amazingly fun energy to the games he is part of. He sat down to a completely unfamiliar gaming system and new genre and brought to the table a character that none of the players is likely to ever forget. He made an incredible impression on me, but my introvert side kept me from making 'real life' introductions that day - which I regretted several times over the next year.

Outside of running the games I hosted, I played a few board and card games that had been new to me. Most notably I was finally able to play a game called Resistance that I had seen played, and liked so much I owned a copy of it, but had never gathered enough interested people to play the game.

That was pretty much RAGECon 5 for me in a nutshell. I had an amazing time, it was an incredibly good thing for me mentally and spiritually, and I was hooked. I knew I had to plan to attend again.

RAGECon 6 in 2019 was a much bigger event for me. I went all in with the support of my significant other (now fiancée), and hosted six event tables over the three days. I also stumbled into a post from the RAGECon staff leading up to the event that tagged my buddy Jed from the previous year, and I broke my normal social passivity to reach out to him to start a conversation about gaming together again that year. I was very glad I did. Turns out he remembered my game fondly as well and wanted to sit in on another of my games.

That year I hosted two game sessions of a murder mystery board game called Mysterium, from Libellud. It's a game of who-done-it where the investigators are fed obscure clues by the ghost of the victim that also wants them to solve the murder - but cannot speak and only communicates in strange visions that take the form of cards with strangely beautiful and weird art on them. One murderer was caught that year, the other escaped justice and got away.

I again ran The Skeletons and Cyberpunk 2020. I had full signups for those games, probably due to registering on time 😛 The game of The Skeletons went very wacky, and despite being listed as a game to introduce new players to role playing, had a couple of veteran role players in it. It was a strange exercise for them as well, but all enjoyed the game, and the story that unfolded was funny and heartrending at the same time - which is a function of the players telling their own stories in a collaborative fashion. It is not a pre-written story. Cyberpunk went equally as well. I had set my new buddy Jed and a long time personal friend named Dave to be insider turncoats that thought they were spies - but wound up being on the hitlist of expendables as well when they too were double-crossed. Much to their chagrin. They played their roles excellently though, and in the end kept their dirty secret a secret.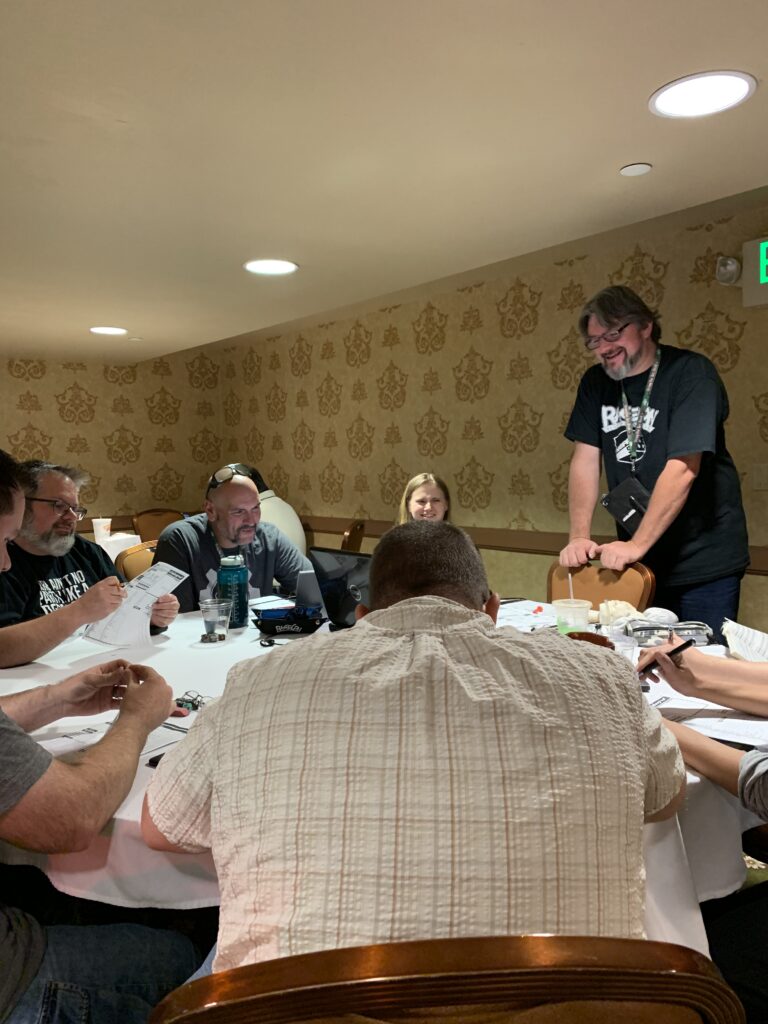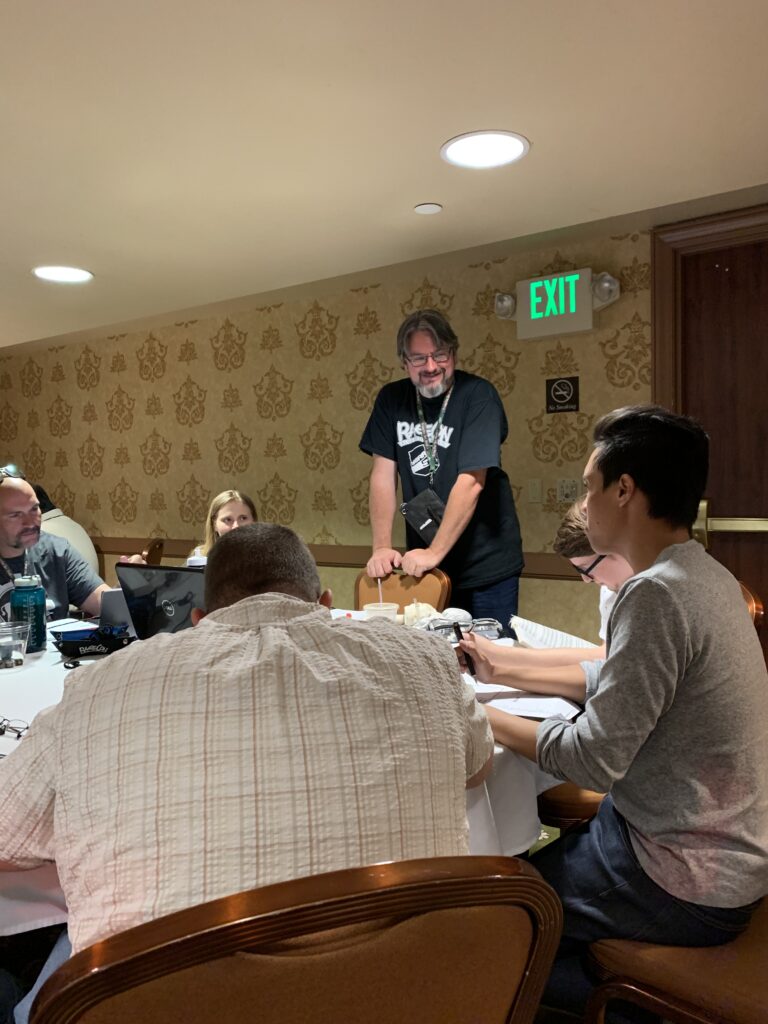 I hosted another game designated as an introduction to role playing called Dread (from The Impossible Dream). This is another mechanically light game designed to emphasize in-character gaming rather than involved mechanics and systems to keep play structured. In Dread your character sheet is as simple as filling out a questionnaire with a few leading questions to bring you into the story at hand, and there are no dice. Instead, when faced with a challenge, the players take turns pulling blocks from a Jenga tower. The fun part about this is the tension does nothing but build higher and higher with the tower, because when you tip the tower, your character is eliminated from the game in some fashion or another. The usual plot for these games is something like a slasher movie, or something stalking the players as they try to escape. As the tower tips, players get picked off and/or caught. It doesnt have to be entirely grim. I ran one Dread game where the players were all Lost Boys on Neverland Island, and they were trying to make it home without being caught by the pirates chasing them. If the Jenga tower tipped the pirates caught them, and dragged them kicking and screaming back to Hook's pirate ship... TO DO CHORES!! *Dun dun duuuunnn* At RAGECon that year the scenario I ran was based of a campy video game called 'Sir, You're Being Hunted' that had the players being chased by posh Victorian aristocrat robots that were hunting them for sport. I had a few standbys for this game actually, and I chose to expand the player slots and let them all play - which turned out to be a poor decision. Everyone got along and played the game very well, there were just too many people, and it really slowed down the progress of the game. It was a lesson learned for me.
The biggest event, however, was on Saturday. I hosted a spot at the wargaming tables for a game I had recently discovered called Gaslands (published by Osprey Publishing). Gaslands is a tabletop battle game that takes Hot Wheel sized cars and pits them into Mad Max and Death Race 2000 type events in a tragic post apocalypse setting. Compared to MANY other table top war games that can be very expensive, Gaslands is ridiculously affordable to get into and is still great fun to play. I hosted the table for an 8 hour stretch, and let people watch, jump in, and leave, as they wanted. I was essentially introducing the game to the Reno area, and the table drew a great deal of attention all day. One of the most rewarding parts of doing this event in the way we did, was being able to support the gaming community for Gaslands. The game is not produced by a large company. It doesnt have models and terrain, and bits and bobs made by its production company for people to buy. The game is almost entirely community supported. From the scenery, to the parts to modify and model the Hot Wheels with, to dice, to templates and markers. Hundreds of people, and dozens of small businesses found on Etsy and eBay are how the game is supported. I reached out to several of them, and with RAGECon's blessing, I was able to display product samples and fliers for these independent shops and hobbyists that are the backbone of the Gaslands community. Making sure new players knew that the game is indeed supported, and where they can find the people doing so.
I could not have managed this part of the event and run Gaslands to show it to interested people, without the help of my lovely fiancée and soon-to-be step daughter. They were essential in letting people see the products on display and handing out fliers as well as being my barkers bringing people to the table and explaining what the game was to passersby. The two of them have an obsession with the dice that are associated with role playing and other table top games. So what we did for the Esty shops that support Gaslands we also did for a few of the smaller dice companies and independent makers whom we enjoy the work of. We had dice from a handful of makers and companies on display, providing them with some convention exposure as well. An opportunity they might not otherwise have. A few even donated things to the RAGECon raffle prizes. It was a definite win all around, but was a great deal of work to manage the game table and display. I couldn't have done it without my support team.
When Covid hit in early 2020, I watched eagerly hoping we'd have a lid on it before it got very bad. It's been awful seeing the virus run rampant and impact so many lives. I have been fortunate and blessed so far to have kept myself and loved ones safe from it. RAGECon 7 never happened in 2020. It was the best and most responsible call for the event coordinators to make facing Covid running wild. We still have a long way to go for us all to be out of the woods here, but I do truly hope that things are improved enough by June 25 of this year that RAGECon can be put on safely and responsibly for all the folks that miss the event and could use the positivity of community and comradery with fellow hobbyists after the long, bleak stretch we've all been through this last year.
Fingers crossed for RAGECon 7 in 2021, and I hope to see all of you there! 🙂
(We have another post recapping 2019 Ragecon and you can find it here)