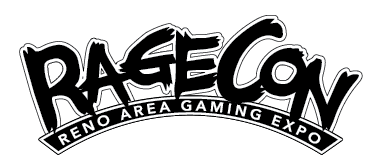 This past weekend we enjoyed attending RAGECON in Reno, NV. It's always fun hanging out with more people like us. The Reno Area Gaming Expo and Convention (RAGECON) is just that. This event is in it's sixth year. This was the second year someone from our family has not only attended but participated. A huge weekend full of all kinds of games and vendors for people to enjoy. Everything from table top board gaming, role playing, miniatures, tournaments, play to win, to testing new product. There are vendors, artists, authors and game designers too!
The convention was in the Circus Circus this year. Super easy to find and access. Food was not far away, and they also had food options on the convention floor itself (that were really good... can you say pulled pork loaded nachos?!).
People can register to play games, run games, and/or volunteer. I went with J, as he was running several games. One of the games we had incredible sponsors for! I went with a Press badge to get photos and rep the stuff. That's in a post to follow. I want to really highlight the companies and individual artists that were willing to sponsor J's Gaslands game. They love gaming and couldn't have been more in support of getting people interested and around a table!
The whole idea behind a gaming convention like this, is to foster the love of gaming face to face and getting together to socialize and spend time. The more we can bring attention to it, the more people know it's available and try it out. I have to say I so enjoy watching the table top role playing games so much. The animation and acting from the players, the story line as it develops, the laughter and humor... it's just so much fun to be a part of. I will put up a post kind of discussing these different styles of games, as some of this may be new to some of our readers!
The kiddos enjoyed the convention quite a bit. K has a game he loves to play every year! This year was no different; he spent a few hours playing. I love this, as he gets to know new people and meet others from many different places. AL loves gaming with her friends and getting stuff from the massive library to try. They pick games, find a table of their own and play for hours.
This convention like many others is a safe space. There is ZERO tolerance for racism, hate, prejudice, or discrimination on the basis of pretty much anything. The many vendors they had celebrated PRIDE month also! We got some of the most awesome pins, patches and swag this year! I cannot tell you how wonderful it is to be in a place with hundreds of people and have it be such a relaxed, welcoming, fun environment.
You can cosplay at conventions and RAGECON was no different. Several of the teens were in cosplay, a few adults, and I of course wore my beloved TARDIS dress. I do have to say, I laughed at the odd looks I got from non-Con people upstairs. Everyone at RAGECON however knew it and loved the reference. My daughter's shirt though was my favorite. You can see it in the gallery, she's the one in the bright blue t-shirt that has Grumpy Cat (RIP 🙁 ) on it.  AL got to talk to so many artists this year. They shared their stories about why they started and how, and gave her so many tips and advice. Really lovely people and such beautiful works of art. I will make sure in the next post to show them off individually! Give them a follow and check out their work. Several of them take commissions if you need that for your character too!
I may update this post again later. But for now, enjoy the gallery!
Check out the gallery for some shots from Saturday and Sunday.
[envira-gallery id='534']