Gaslands Game – Death Race battle report: The Fix Is In!
The Game: Death Race scenario, with sponsors live. 30-can teams. One house rule in effect.
Scenario Changes:
1: Imposed 'forced evade' rule for collisions outside the start gate. So nothing but swapped paint and bonus hazard-tokens for anyone trying to smash attack before being in the arena.
Our Game: 30-can teams this week with 4 players, including me. 🙂 I handled vehicle construction for all but one vehicle this week. There were two returning players and one completely new to the game. Due to a couple last minute cancellations I was able to field a team myself again, so I quickly made a Warden team to race. The track this week had several switch backs to funnel the action toward the middle, with the stretch to the finish line running straight down the middle of the arena. There was quite a bit of scenery out this week to give racers a couple places to choose routes around obstacles. I used the Battle Zone Quick Mat from Kraken Dice again to put pavement under folks.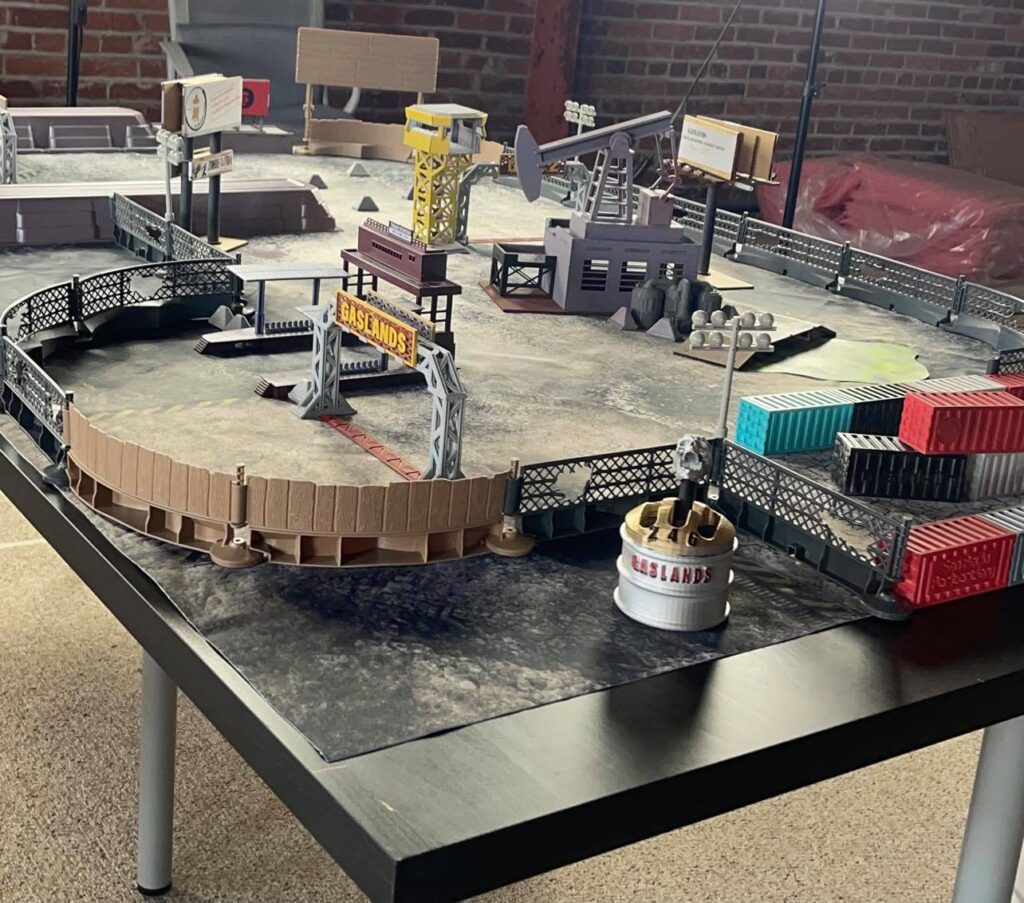 Event sponsored by Mythical Family and Badlands Noodle Bowl! 😛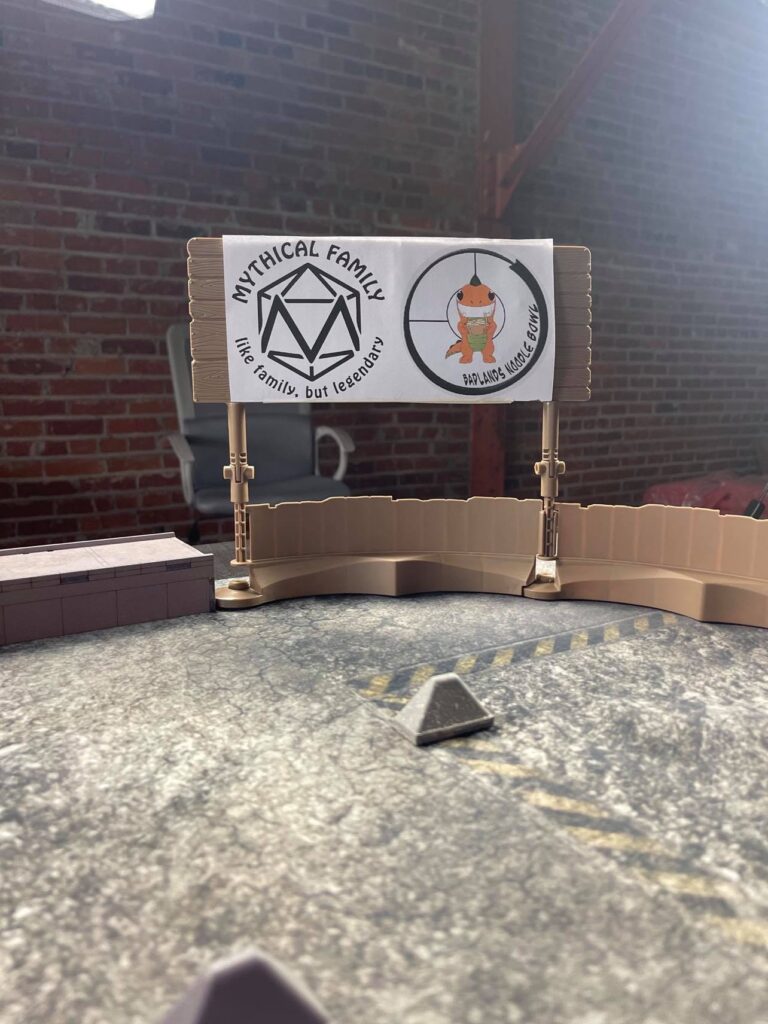 The Contestants:
Savage Sean returned this week driving a crazy Mishkin sponsored contraption named Russian Roulette. Built on a car chassis with an Arc Lightning Projector pointing forward, a box of RC Bombs, and riding heavy with perks: Eureka, Mobile Mechanic, Chrome Whisperer (thanks to Whizbang), and Hot Start (thanks to Gyroscope).
Zan-Max was back this week to put his favorite baja-bug model back on the tale. This time he had Herr Horsepower, a Maxxine sponsored car chassis sporting a roll cage with a turreted HMG, and a backseat full of molotovs and gas grenades. I also put the Momentum perk on the car for him to play with, since he's a fairly wild and wide open throttle type player.
Bulldog Mikey was new to the game this week, but had a good time despite the usual pressure that comes with learning a completely new game. Rolling a Rutherford sponsored ordinance truck affectionately called Vanessa Von-Trapp. Built on a truck chassis it was armed with a turreted MG, forward facing rockets, and the perks Road Warrior and Double Tap. (Full disclosure: I kinda wanted to play this vehicle myself despite not being a Rutherford man at all. 😛 )
Dadthulhu (me) brought a Warden team to the track. Despite 30-cans being a low budget, I still put together a two vehicle team. Turns out this was just as bad of an idea as it probably sounds to you right now. 😛 Vehicle one was Lunchroom Riot, a prison-car with two convicts representing the lifers from cellblock-8. Armed with a turreted MG, molotovs, grenades, welded no-exit doors, and some extra fuel to make the car go big when it goes! (Powder Keg perk.) The second vehicle was Rack-Toss, a buggy driven by the corrections officers Simmons and Harding. Buggy chassis with a glue dropper on the sides, an MG to the front, and a rear facing bazooka that they clearly anticipated being in the lead to use!
The track had a few quirks to its setup. The starting gate shot into an alley of shipping containers that split quickly into a left and right route. The right side route got too narrow for more than one car but was a shorter and more straight route out into the track. The left side had more room, but was the slightly longer way around. This was a fun ploy, but really wound up jamming up the game pretty much right out of the gate. If I do this again it'll not be as tight an obstacle to maneuver.
At Gate-1 there was a switchback through another narrow obstacle - and that is where the game more or less ended, despite someone actually making it all the way to the finish line.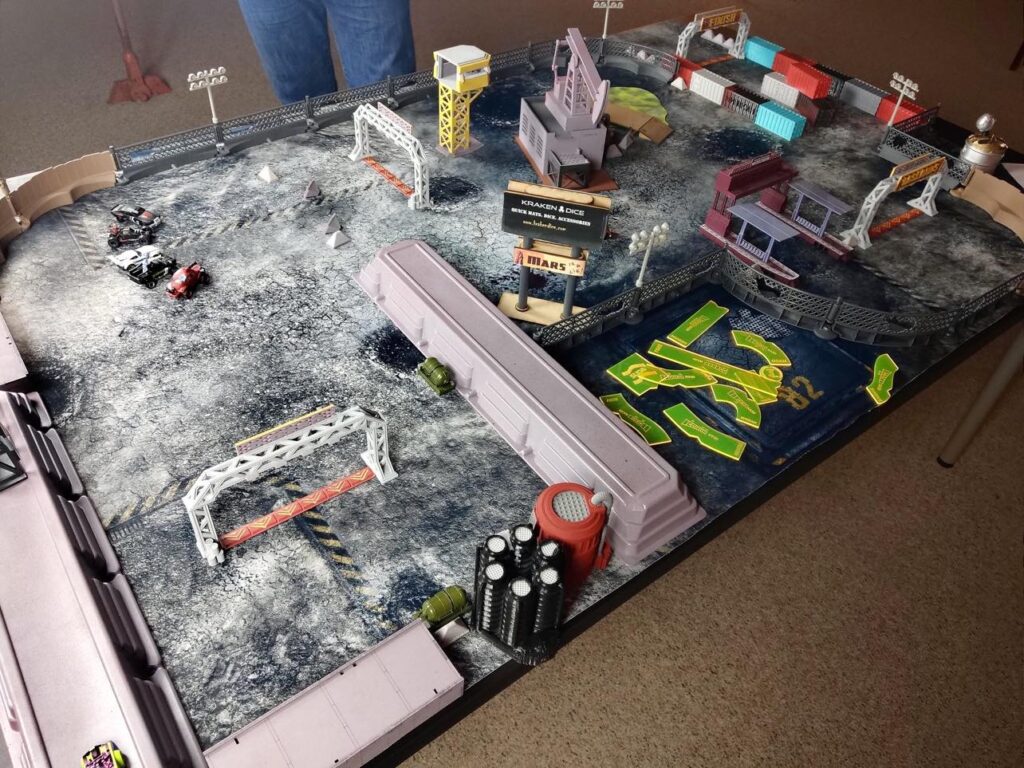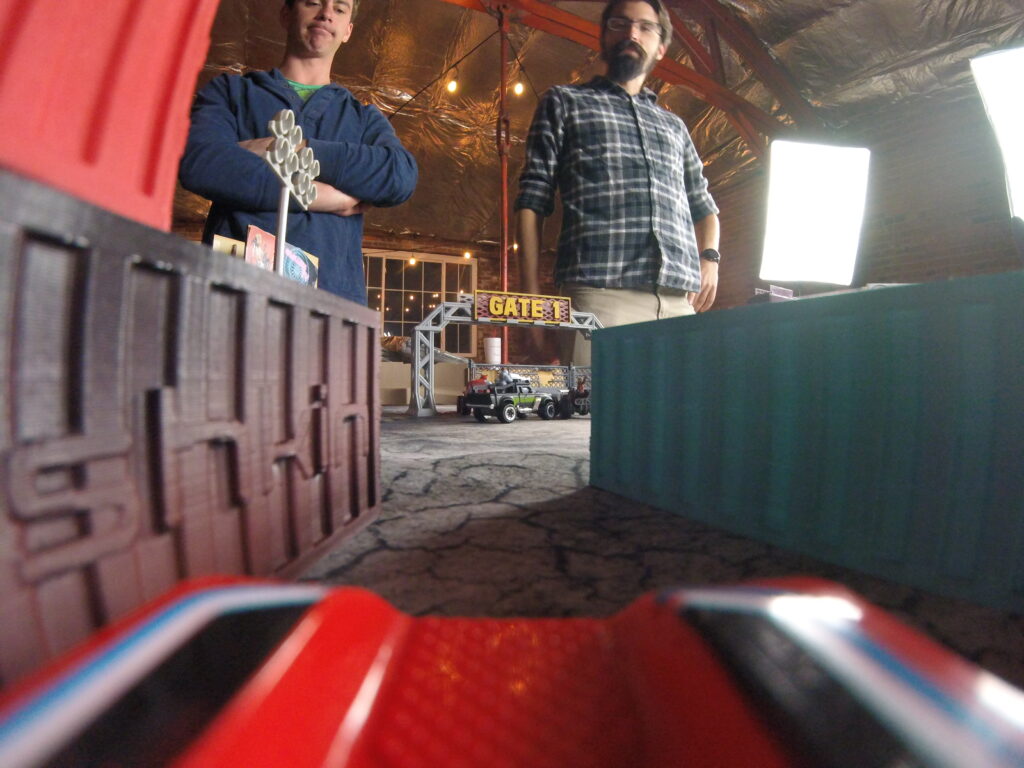 Everyone came out of the container alleys and piled right up in minor collisions and blocked templates. Since my runner-car was a fragile buggy, and my blocker car was a rolling bomb, it was fairly nerve-wracking for me! 😛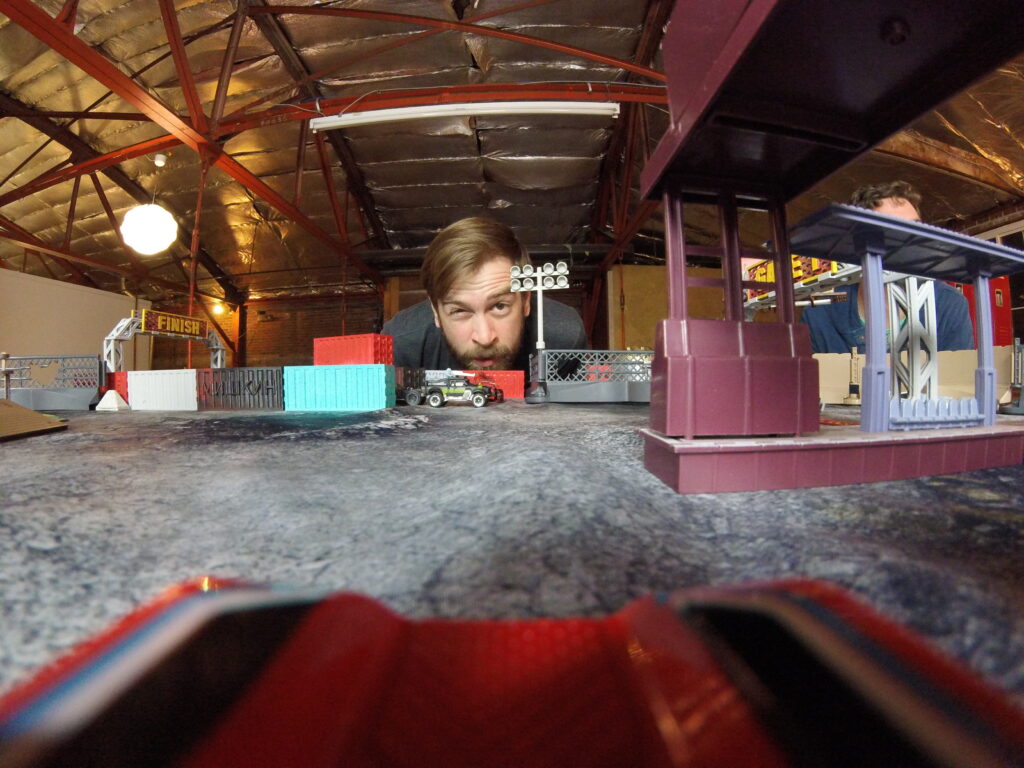 Russian Roulette the Mishkin Menace broke free and through Gate-1 first, but then everyone else came clanging though the gate right after, like a loud frantic herd of ducks all chasing the same scrap of bread. And the phase or two that unfolded just after Gate-1 was a series of calamitous disasters for nearly everyone.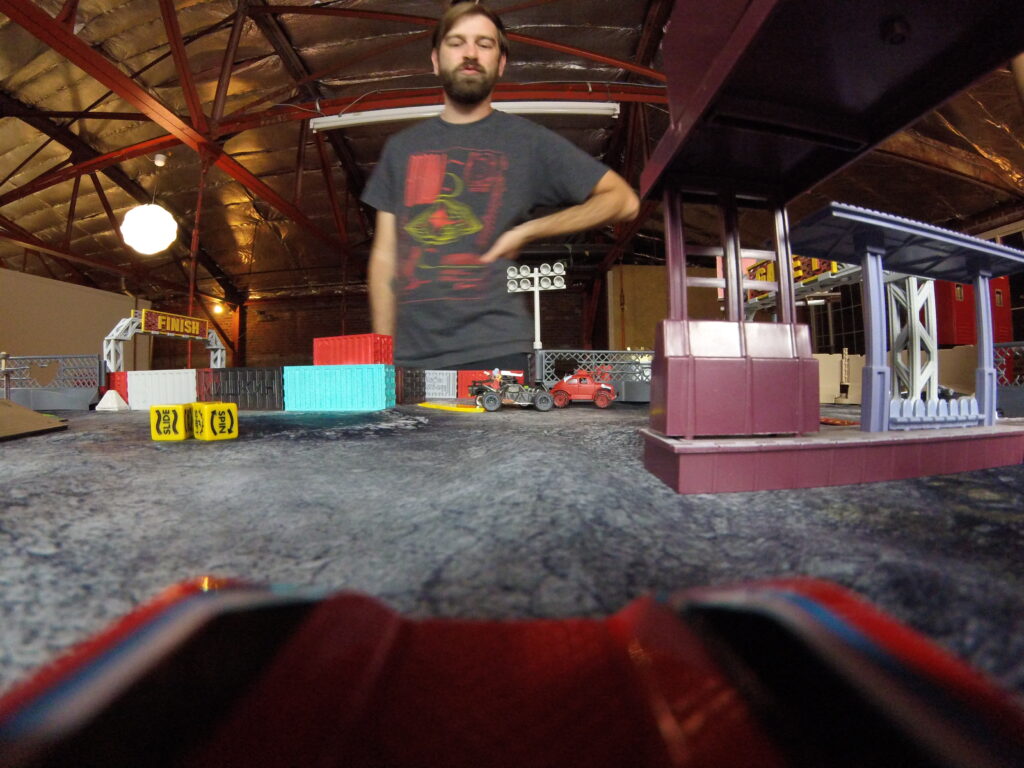 Weapons unlocked, bullets, grenades, and ram plates were exchanged. At this point Rack-Toss is shot out of the game, but doesn't explode in the midst of everyone else. Rules were learned about being distracted if you ram attack then want to shoot - Bulldog was a good sport about it since he was new to it all.
Lunchroom Riot tried to block Russian Roulette from getting clear and into the open, but it did not work. The Mishkin Menace broke free of the gate, got some distance, then lightning struck. In the most literal way.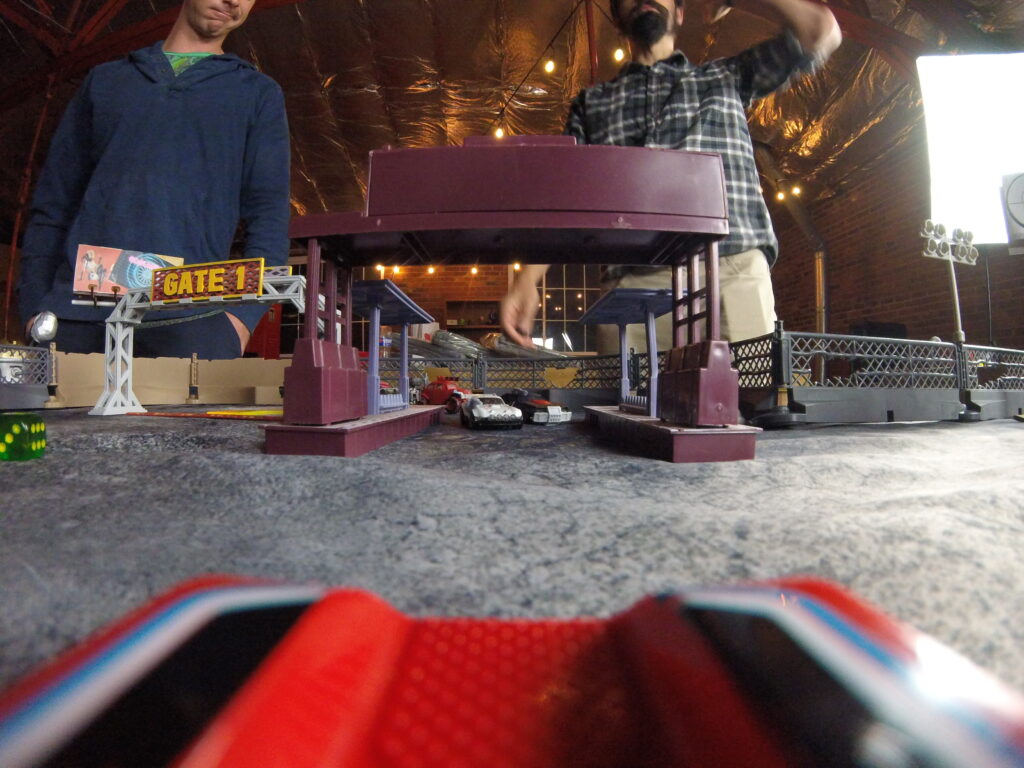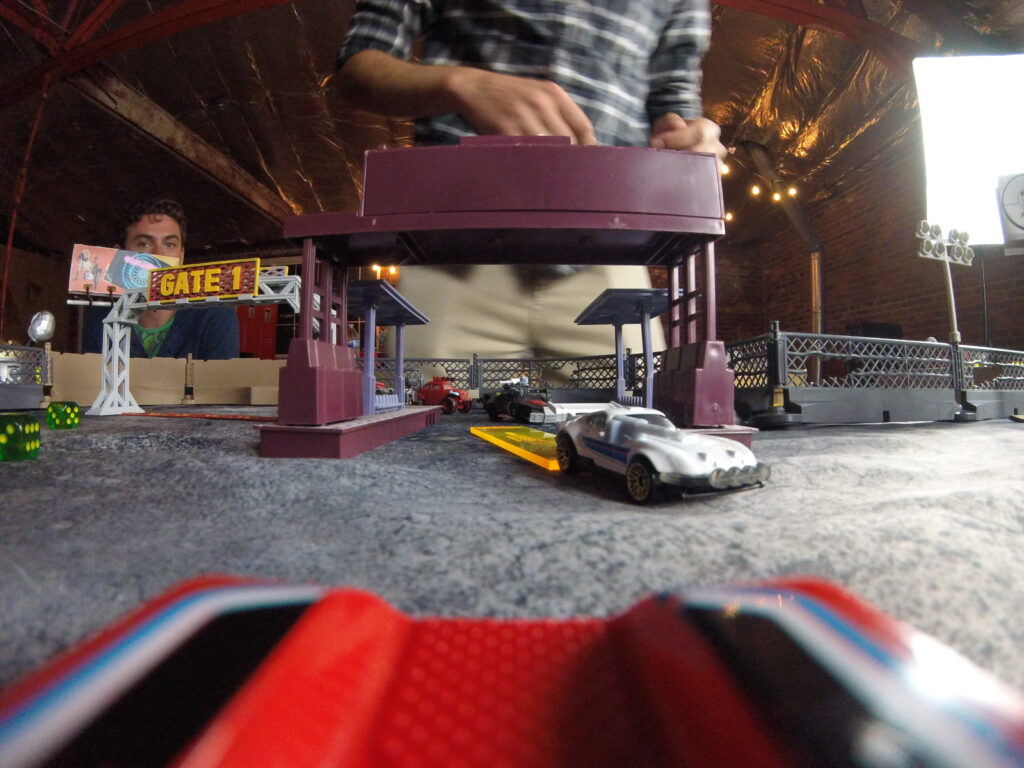 Using Eureka (because he had not yet used his front mounted Arc Lighting Projector, Russian Roulette shot lightning at the crowd of cars they had just broken clear of. Killing, wrecking and exploding Lunchroom Riot, hitting Vanessa Von Trapp, and continuing on to also hit Herr Horsepower, though the last two were only hit for a few points of damage. The powder keg on Lunchroom Riot goes off, inflicting more damage to everyone in the area. More weapons fire and bullets are exchanged. Herr Horsepower also ends up shot out at this gate. And Russian Roulette has wide open track through gates 2 and 3.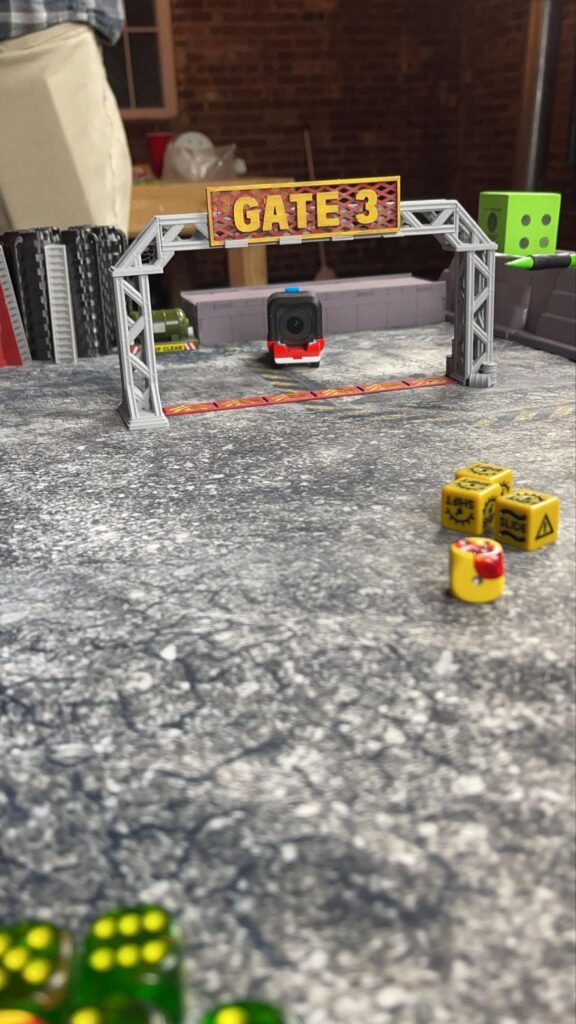 Herr Horsepower and Rack-Toss respawn at Gate-1. Rack-Toss succumbs to the over-kill of being double-tapped with rockets from Vanessa Von Trapp. Herr Horsepower makes a run for Gate-2, but finds Russian Roulette on their way back from Gate-3 making the push down the middle of the arena for the finish line. Herr Horsepower succeeded in making Russian Roulette go the long way around a building for cover, but at this point there was no stopping the Mishkin car. It was a fairly decisive victory that was more or less sealed and delivered at Gate-1.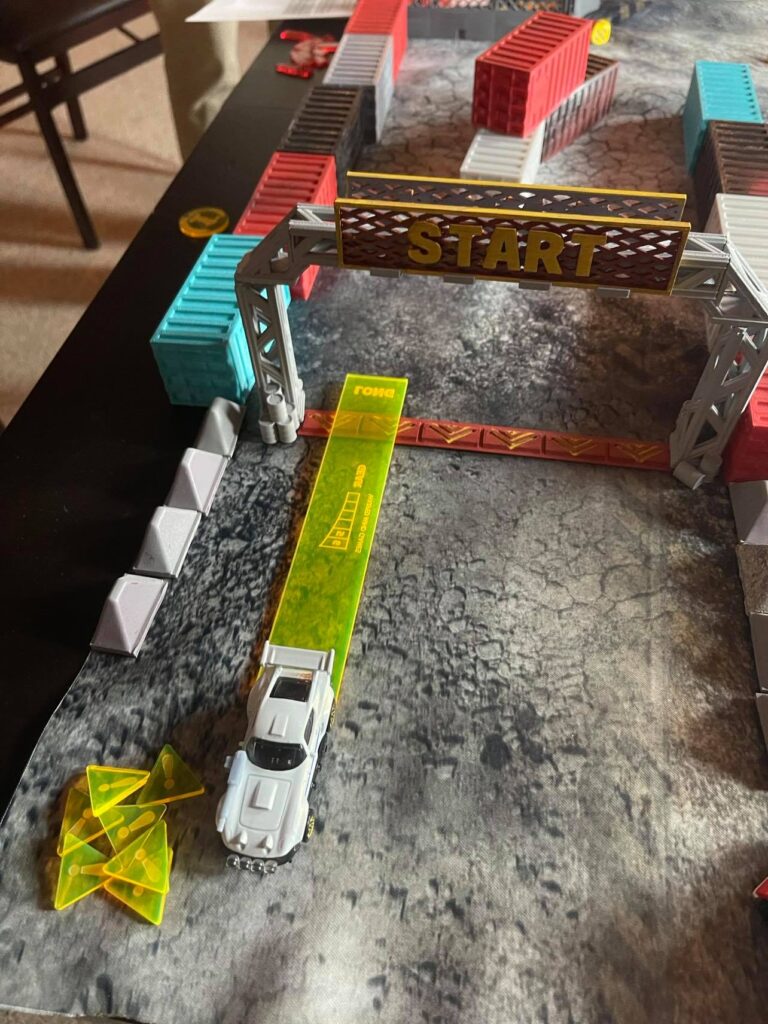 Fun was had by all again, and that's the real goal every time 🙂 Take aways from this one: Mobile Mechanic might need some reviewing. RC bombs are still kinda hinky, we havent made any house rules for those yet though. When the budget is 30 cans, splitting that between two cars is a real gamble. Too much bottleneck in too small a span 'does not please and sparkle.' 😛
Until next time, Wastelanders! Throttle open, safeties off. Have fun, play games, grind gears, collect hazards!